LATEST NEWS FOR FEB 2002
As we enter 2002, join us as we are eagerly anticipate the many great things will happen to the Asian Pacific American communities.
Our invitation is extended to discover various Asian American leaders listed below, information on our past victories and the many great things that are presently happening in our communities.
YOUR MUSICAL INPUT IS NEEDED as we seek identify the best songs from our music artists. Click HERE to have your opinion heard.
FEATURED ARTISTS & LEADERS

JODI LONG & FAMILY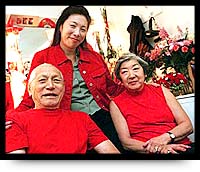 Jody Long has followed her parents' (Larry and Kimiye Leung - now divorced) dancing footsteps and acting ambitions since she was 6 weeks old.
Her recent performance in the theatrical adoption of Flower Drum Song continues the tradition of her father, who was in the original version of the musical for several years.
Long's 82-year-old father has retained his Chinese father's original name, Leung, which was anglicized to "Long" in his native Australia. When Larry Long became a performer in America, he reclaimed "Leung" as his stage name, but passed on his legal name, "Long," to their daughter.
Jodi's parents, Leung and Kimiye Tsunemitsu, met as performers in 1947 at New York's "China Doll" nightclub. Kimiye adopted the stage names "Trudy Kim" and then "Kim Leung." They worked as a husband-and-wife act at the Forbidden City nightclub in San Francisco and on the road.
On May 7, 1950, they performed on the Ed Sullivan's TV show where Leung (aka the Chinese Gene Kelly) began by talking in pidgin Chinese, wearing a Chinese robe. Then he took off the robe to reveal a tuxedo and transformed into a Western-style tap dancer.
Leung, whose Cantonese father married a Scottish woman, became a teenage tap dancer in the music halls of Sydney. After WW II, he was half of an act called the Wing Brothers.
Kimiye Tsunemitsu is a Japanese American, born in Oregon, whose family was sent to an internment camp in Idaho during World War II. She found work in New York as a "pony"--one of the shorter dancers as opposed to the taller "showgirls"--at the China Doll.
Her parents formed their own act featuring impressions, dancing and jokes about Chinese laundries and other subjects that was seen at the Forbidden City Night Club and other theaters nationwide.
Jodi credits include Sidney Lumet's "Nowhere to Go But Up," Michael Weller's "Loose Ends" with Kevin Kline on Broadway, Mark Taper stint in "The Wash" in 1991, the TV series: "Cafe Americain" in 1993-94 and "All-American" Girl" in 1994-95.
EDWAARD LIANG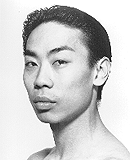 He was born in Taipei, Taiwan and began his ballet training at Marin Ballet in California at the age of five. Entered the School of American Ballet, the official school of New York City Ballet in 1989. He became an apprentice with New York City Ballet in the spring of 1993 and join the Company as a member of the corps de ballet in the fall of 1995. He was promoted to
Soloist
in November 1998.
Since joining New York City Ballet, Mr. Liang has danced numerous corps roles in the Company's vast repertory. In addition, he has danced principal roles in Bob Fosse tv program, Jerome Robbins' WATERMILL and in Peter Martins' CALCIUM LIGHT NIGHT and JAZZ (SIX SYNCOPATED MOVEMENTS). He also originated a principal role in the world premiere of David Parsons' TOUCH.
EDDIE SHIN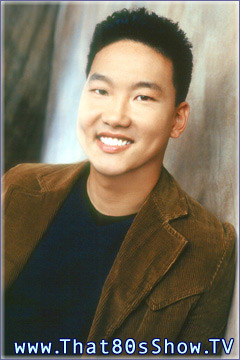 Roger on
"That 80's Show,"
received his degree at the University of Chicago and studied acting at the University Theater and the Steppenwolf Theatre Arts Intern exchange program. In his hometown of Chicago, he's appeared in productions such as "M. Butterfly," "A Christmas Carol," "The Berlin Circle," "Romeo & Juliet" and "Life's a Dream."
His past roles include a recurring role on "The Gilmore Girls" and a recurring role on "ER."
In "That 80's Show," Eddie Shin portrays Roger, Corey's upwardly mobile friend to who is driven to ride the Reagan train to success... but just can't quite catch a break.
SUCHIN PAK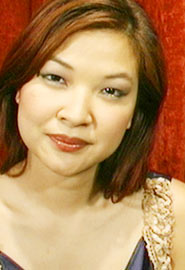 SuChin Pak,
who was born in Seoul Korea, is the newest news correspondent of MTV News.
Her first show interview, when she was 16, was cut short when she mistakenly called Ice Cube - "Ice Pick" - which local evening news reported on this mishap.
Pak hosted numerous Bay Area shows and an infamous reputation for crashing local morning show parties.
She was one of the hosts of the longest-running science show on PBS' "Newton's Apple."
She hosted "Trackers," a two-hour live entertainment/music talk show on the Oxygen Network.
This UC Berkeley graduate producer/writer has 9+ years of television experience.

IN 1869
- Memphis TN conference of plantation owners proposed substituting Chinese labor for black slaves.
IN 1871
- Nineteen Chinese were massacred in Los Angeles. October 24 marked the worst incident of Anti-Chinese violence in America up to that time.
IN 1879
- the Arizona Weekly Star ran an editorial in 1879 portraying Chinese Americans as "an ignorant, filthy, leprous horde" and "the most pernicious and degraded race on the globe." Chinese workers were attacked in railroad camps and mining towns and driven out of Arizona's mines and railroads.
IN 1923
- Justice Sutherland, speaking for the Supreme Court in 1923, said that Bhagat Singh Thind and other Asian Indians were aliens ineligible to citizenship because they were not white, as only whites and blacks could become citizens.
IN 1924
- In the Hanapepe Massacre, police attack union headquarters in Hanapepe, HI where 16 sugar plantation workers and 4 policemen are killed.
IN 1930
- Anti-Filipino riot occurred in Watsonville, California and in Kent Washington. The Japanese American Citizens League's first national convention was held in Seattle on August 29.
IN 1930
- Nearly 3000 Filipinos working in Alaskan canneries.
IN 1947
- Truman grants full pardon to the Japanese Americans who had been convicted for resisting the draft while they and their families were held in concentration camps.
IN 1949
- FBI arrests the Hawaii Seven for communist activity. Their fines and jail terms are overturned in January 1958.
IN 1959
- Confession Program pardons undocumented Chinese immigrant
IN 1959
- First Chinese American to be elected to the United States Senate.
IN 1971
- Japanese American Citizens League wins its fight to repeal the Emergency Detention Act of 1950, thereby eliminating the threat of ever reactivating concentration camps in America.
IN 2001
- Patrick Oliphant's racist cartoon was an offshoot of the recent stand off between the U.S. and China over the U.S. spy plane incident.
OUR GOALS
The purpose of this section is the following:
OPPORTUNITY
to discover more about our dreams
UNDERSTANDING
our fears and our hopes and
UNCOVERING
invaluable and missing information


ADDITIONAL INFORMATION
For additional and specific details on the information listed below, please CLICK on the "Titles" listed below.


MTV FILMS PICKS UP APA FILM


MTV Films has paid $1M for North American distribution rights, in the first acquisition of an APA-American film (Justin Lin's "Better Luck Tomorrow") from Sundance Film Festival.

NETWORKS & DIVERSITY
The networks' efforts to increase cultural diversity in the casts of current and upcoming network television series, ABC, Fox and NBC in the next few weeks will host several showcases for minority performers who will audition in front of major executives and casting agents.

Leaders of the coalition, which includes the National Assn. for the Advancement of Colored People, the National Latino Media Council, American Indians in Film & Television and the Asian Pacific American Coalition, said at the time that the networks had not fully honored commitments reached in 1999 to increase diversity in front of and behind the cameras.

Karen Narasaki, head of the coalition, stated that the group has been working with the networks and their respective heads of diversity to develop the showcases and their concerted effort to recruit more minorities to comedies and dramas.

The group last year issued "report cards" that contained low marks for the four networks in terms of diversity. In overall grades, ABC landed at the bottom with a D-minus, CBS scored a D-plus, Fox earned a C-minus, and NBC received the highest grade, a C.

NBC, in conjunction with the Laugh Factory, will hold "open mike" auditions Jan. 29 and 30 for Latino and Asian comedians. Unlike the other workshops, aspirants who have no experience or agents will get a chance to perform in front of network executives.

ENRIQUE IGLESIAS VIDEO NEWS


Enrique Iglesias has the flair of getting gorgeous women for his videos. Enrique Iglesias' video for his emotional anthem "Hero," released just before September 11, starred actress Jennifer Love Hewitt. His follow-up video, October's Escape, will feature the tennis beauty - Anna Kournikova. "Escape" is a guitar-flavored dance tune with the chorus "You can run, you can hide/ But you can't escape my love."

EDDIE SHIN ON "THE 80'S SHOW"
The first episode of "The 80's Show" - that includes Eddie Shin as part of its regular cast, starts this month on FOX.

TERMINATOR, THE KID & BRIT AWARD SHOW


Dan "The Terminator" and Kid Koala are part of the "virtual hip-hop group Gorillaz that received six nominations in the

2002 Brit Awards

. The group also includes Blur's singer Damon Albarn, former Talking Heads' Tina Weymouth, Chris Frantz, artwork of Tank Girl creator Jamie Hewlett, Cibo Matto's Miho Hatori and Del Tha Funkee Homosapien.

FILM ABOUT THE STORY OF "KOSMO.COM"
The film "e-dreams" is a feature-length documentary, which successfully captures the highs and lows of the dotcom frenzy of the past few years. It is a behind-the-scenes look at an Internet start-up, chronicling the dramatic growth of a young company (Kozmo.Com) and the fate of its co-founders, Joseph Park and Yong Kang.

LUCY LIU LEAVES "ALLY MCBEAL


LUCY LIU has officially recorded her final episode of ALLY McBEAL. The actress has decided against renewing her contract on the hit legal comedy, but her final day on the set wasn't as ceremonious as she'd imagined. She says, "It was really sad, we didn't finish until really late, 11 or 11.30pm, I didn't even realize it was my last shot until the director shouted out that it was, and everyone stood up and clapped and I said goodbye to everybody."

-World Entertainment News Network

ALEX KIM AT AUSTRALIAN OPEN
Alex Kim

, an American college player who turned pro in 2000, won 6-3, 7-5, 6-3 against No. 4 seed Kafelnikov, the 1999 Australian winner and 2000 runner-up to advance in the 2002 Australian Open. Kafelnikov, who had 55 unforced errors to 17 by Kim. The Russian also served 10 double-faults. Kim, ranked No. 234, reached match point with a shot that ticked the top of the net and dribbled over. Kafelnikov ended the 1-hour, 42-minute match with a backhand into the net.

PATAKI HONORS APA'S


New York State Governor George E. Pataki talked about 14 heroes in his January 9, "2002 State of the State Address." Two of the 14 heroes were APAs, when our population in NY is only 6%. .

Gov. Pataki stated Zack wasn't at the World Trade Center on the morning of September 11th. But he knew that his emergency training could save lives. So he ran toward the danger and confusion. He was last seen on television caring for others. He died an American hero." "Zack Zeng, who was born in Mainland China, was a 29-year-old employee at the Bank of New York and became an EMT to help his neighbors.

Gov. Pataki stated ""Thanks to Port Authority Police Officer David Lim, hundreds of people who were trapped in a smoky stairwell are alive today. By urging them to continue downward rather than switching stairwells, he led them to safety just moments before the North Tower collapsed. He was trapped in the rubble for nearly five hours before being rescued. "

GLORIA KIM - A GOOD SAMARATIAN


Gloria Kim is a frail 60 years old minister who feeds bodies and souls by providing bread and homemade soup every morning via a beat-up van. Every day, she scours Los Angeles street corners, alleys and parks in search of the homeless and hungry.

Her patrons call her "Mama" for her acts of charity-a bowl of soup, a sack of nuts--hand-delivered with a prayer. For 15 years this has been Gloria Kim's routine, her sole mission. Her van and her rosy-cheeked face are well-known among the homeless in MacArthur Park, Lafayette Park, Koreatown, Griffith Park and downtown Los Angeles.

Kim, a former nurse who turned her life over to religion nearly 20 years ago, founded the Zion Gospel Mission in 1986 in Los Angeles, along with her late mother. Kim immigrated to the U.S. from South Korea in 1976 and worked as a nurse in Florida. Before that, she helped a community of exiled leprosy patients in South Korea.

CNN GETS CONNIE CHUNG
Marking perhaps its highest-profile signing of news talent from a major network, CNN announced that Connie Chung is leaving ABC News to host a prime-time show at CNN. Chung scored a coup by landing an exclusive "20/20" interview last summer with embattled Congressman Gary Condit. Chung, who joined ABC in 1997, had several months remaining on her contract but the network, a Walt Disney Co. unit, is letting her leave early.

PC BANGS
PC "bangs" (Korean for rooms) is the latest rage for many 1st and 2nd generation Korean American men. They are, however, attracting other ethnicities and becoming a "melting pot" environment. This trend started in South Korea and established over 20 cybercades in L.A.'s Koreatown, New York, Chicago and the Bay Area.